Buying Trains and Values
People ask what Lionel trains are worth. For me value is in the fun with the family. I tinker and fix. I get many non running and make them run like new. Grand kids love to run the train. Many adults love to run the train also.
For economic value I see there are 3 factors. Condition, Availability and Demand. I call it C.A.D.
Condition is key. Too many people forget this. Oh it's old, it's Lionel, it's valuable, well maybe. As condition goes down from the top level "New In Box" class, value drops dramatically. Even small scratches may drop the value of an item quickly. Think of an old used car. If paint is bad and not running, you may not be able to give it away.
Thankfully the train hobby hasn't fallen into the depths of "all original" that the car hobby has. I see no value in a 1920 blitzen automobile that looks like it was left in a swamp for 50 years, but it is kept unrestored so it is all "original".
Availability. I list availability since scarcity and rarity are very subjective when it comes to Lionel. People start inventing reasons things are scarce.
Example a current trend is to find out if the painted tender body has a single color plastic underneath or "multi-color" thinking the multi-color is something special. Nope. Lionel was a business. With plastic injection molding you have leftover plastic in gates and sprues. The same as the plastic pieces that held the model car or airplane parts you used to glue together as a kid. When you get enough of this left over plastic, you put it all in the melt and use it. Since it could come from 1 or more colors, you end up with a multi-color plastic body. Paint over it and who cares, until someone thinks it is special.
Demand. If 50 people want an item and there are 49 or less available, demand may be high. If 50 people want an item and 51 or more are available, demand is low. Demand varies. Lionel was a top "toy"maker in the world in the 1950's. Availability is still strong, Lionel made a lot of trains. Many people took care of them or lovingly stored them away. Many parts are still available for restoration. Supply is still abundant for many items after 1946.
Collector value is a never ending study and like the stock market, you can get burned. Original releases tend to have high value, only if in excellent condition. New in Box or very close to it.
Believing the 1984 reproduction of the prewar 763 has similar value to the original is a fantasy. It may only be worth 5-10% of the original, if that.
Why does a scale model 1950 773 engine and 2426 tender rate a high value? That one is obvious, it is a top end engine only supplied 1 year. Why don't the newer versions rate a similar value? They aren't the original and the original was a "better" quality in most cases. The newer versions are readily available while the originals are not.
Why does a cheap 1959 Black Lionel Lines tanker with a Circle L that came with an Alaskan set demand up to $100 or more? Many of the other tankers from the period are worth $15 or less?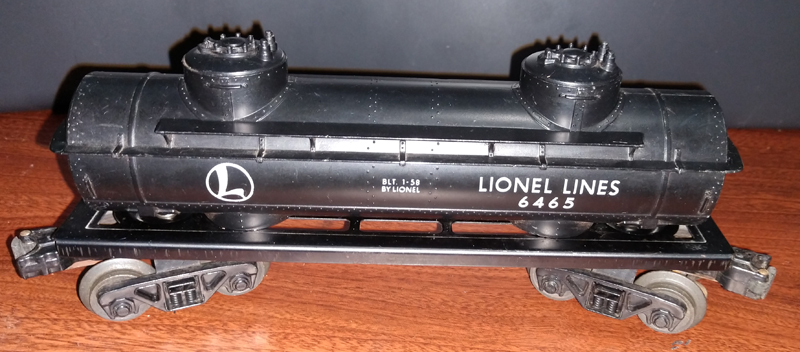 Availability and Demand. People want to recreate the Alaskan set it came with and the car was made only 1 year.
Some other things to understand when buying trains
Train clubs for sale listings tend to be more reliable. These are from people that love trains. These groups don't put up with members selling junk.
Ignore sales terms. Scarce, rare and such in the description. Die-cast is one that is often used and miss-applied. If plastic it was most likely injection molded. Die casting is for metal. Is there something special about saying it was "die cast"? Not in my opinion. These are sales pitches, ignore them.
Don't be influenced by high prices in listings. Example an item is listed at $600. If the same item is listed at $300, that does NOT mean $300 is a good deal. It may still be way overpriced. Research and know the prices.
Don't take advantage of the uninformed seller. One that doesn't know the value of their items. An honest deal is a good for both sides, not just one. A few will try to talk the uninformed into almost giving away their train items. This is bad for everyone.
The other side of the uninformed seller. Some selling family train items find a listing for a perfect item and think their rusty, non running engine is worth 90% of the perfect value. It may not even be worth 5%. It usually means they are way over priced.
Be careful when the description is lacking or seems poorly worded. Ask for more details if possible. If the answer is still obscure, they may be hiding something.
Poor or missing pictures on auction sites. There should be at least 6 pictures, front, back, top, bottom, left and right views. All pictures should be a high resolution and focused. when part of the description references the pictures and the pictures are poor, be careful. They may be trying to hide something.
Untested. I interpret that as "it doesn't run". I can't say untested is a bold face lie in some cases, but it makes me wonder when the same vendor will report that all the items that work are listed as working, but everything else is "untested". Untested means major repair may be needed. There are some that found a family set that can't test the items, but be careful. I have gotten some good, untested deals from these family sales, but only after detailed inspection. If you don't have repair skills, stay away from untested.
Level of detail. There are many levels of detail. Scale and brass tend to have more detail or "scale accuracy". You pay for it. Examine closely the differences when you compare 2 similar, but different items. Also any missing details can drop value quickly. The most common missing detail is the 2 reflector lights at the front of a steam engine boiler. They are small and easily break when that engine hurtles off the track at top speed through a turn. If one or both are broken off, it drastically reduces the value.
Zinc pest. Many of the steam engines just before and after WWII are made of a zinc alloy. Along with truck details and some wheels. Even modern trains may use zinc components. If the zinc alloy was of good grade, they last almost forever with good care. If the zinc alloy had impurities you may see "Zinc pest" The metal looks like it is rotting away or is bending out of shape. There is no repair since the impurities in the metal attack if from inside over time. The low cost manufacturers tend to have more Zinc pest problems over the years. It has even manifested in some new engines and details. A sure sign of poor manufacturing controls.
Dents and bends are a bad thing. If there is a dent or broken piece on the metal steam engine, it detracts from value. They are not easy to repair and may break if you try to fix them. In some cases they could be a sign of Zinc pest.
Understand the age and repairs that will be needed. I have many post-war Lionel trains. Wire replacement, cleaning of the brush contacts and coupler repair are the most common problems. If you can do these minor repairs, it goes a long way to reducing costs.
Electronics. The boom and the bane of the modern hobby is electronics. It if works, it is great. When it has a problem only a few have the ability to repair. By the time you pay for the repair and shipping, it can be expensive. In many cases replacing it all with a new 3rd party components may be cheaper. Unless the electronics have been tested and are guaranteed to be working, I usually assume they aren't.
The control system. Lionel had TMCC, then Legacy that works with TMCC still. MTH has DCS. Then there are various 3rd parties that support these formats or have their own. Even battery powered remote control. Be aware of what it takes to run these "control" systems. Just think of what kind of phone you had 10, 20 or 30 years ago. That is the era these systems were originally created. I have a Lionel Legacy system. It works well, but I am careful to take care of it. It will not run MTH's DCS engines PS2 or PS3 engines options.
When it comes time for you to sell a large quantity of items to a dealer you will only get 1/2 current market price, if that. If you want to get "full price", based on the current market, you will have to become a dealer yourself. It is a lot of work to earn "full price".
If you can't find what you want, be careful of buying a substitute. You may find later you are not satisfied with the substitute. It's up to you.
Watch out for too good to be true. Example, a never run, prewar 763 in new condition? Can you determine if it is original, a clone using modern parts or a repaired and repainted original?
When buying from a seller who has little experience in shipping train items, give them advice on packing. Many don't know the level of packing needed to protect train items during shipment. Even some packing companies don't know how to pack an engine. Poorly packed the engine becomes a battering ram. I have had major damage in shipping when this happens. I even had a major company with new employee's on the shipping dock loosely pack a train set. It ended up junk after shipping.
If you want to build a collection, study the hobby, make a plan, think about it, think some more and then follow through getting what makes you happy. If you don't have a plan or continually change your plan, the costs can get out of control. If you want to collect trains as an "investment", good luck, you will probably go broke.


Back to Main page.

Last update Aug 10 2022