3D Printing
T Bird and Pickup Chock blocks
I have a MKT 4223 car carrier from LOTS, Lionel Operating Train Society. It looks great with 1950's for Pickups and 1956 T Birds. The problem is there is nothing to hold the cars in place. As the train travels, the vehicles roll and bump. Elastic band holders distract from the appearance. Other methods, tape and screws have problems or access problems. I needed some wheel chocks to hold the autos on the transport.
I have settled on Solid Edge for the maker community. Very similar to something I have had years of work with. After the first creation, the second was easily adapted.
First this is what the car hauler looks like Holes under the cars and sheet metal flanges. I can use those for locating the chock block.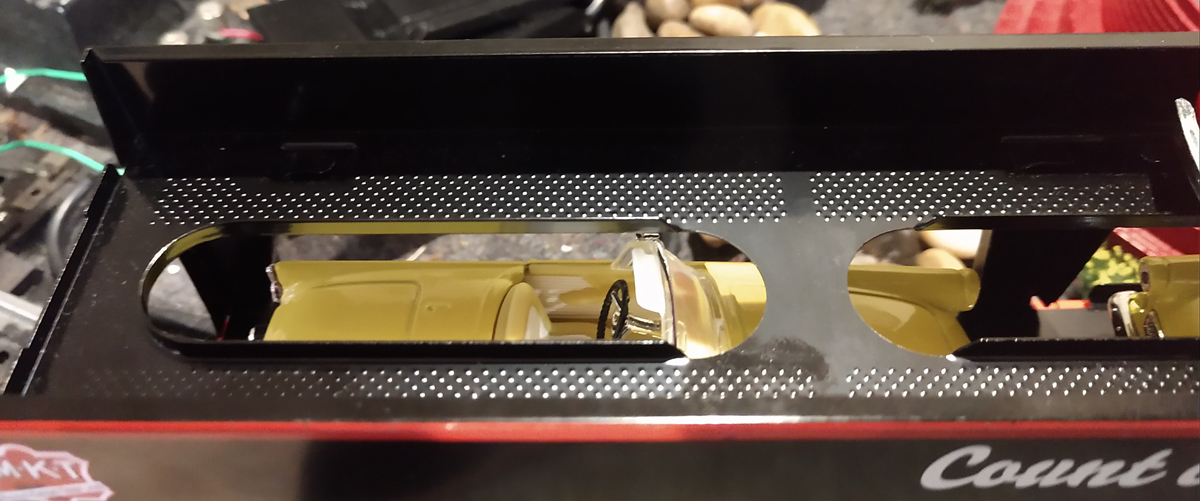 The Design for the Truck. From the top. The area for the wheels are set to the wheel base of the truck. .3mm layer height. Black to match the Car Carrier. The area under the rear wheels is .020"/0.5mm thick. Enough for some strength, but keeps the car at original height. The front area is not to a point, but 020"/0.5mm also. The slots for the flanges are .030"/.75mm wide and .1"/2.5mm deep. With 3D printers, putting radii on all the edges is easy also. A few holes to save material, but not much printing time. Cutout areas to clear details under the vehicles.
The bottom view of the plate for the truck. The oval area that matches the car carrier extends .08"/2mm to hold it in plate.
Now installed in the Car Carrier, A good fit, snaps in. Slots for the flanges work well. I did a little more "deburing" after the pictures were taken.
Now on to the T Bird. It is a different wheel base, needed more relief to clear the "oil pan" and the oval locator was only .020"/0.5mm deep. The bottom level does not have any clearance under the cutout. The bottom of the chock plate for the T Bird
The T Bird Chock plate top, installed in the Car Hauler. There is extra clearance for the oil pan.
A shot with the Autos back on the Car Hauler. They stay put, no rolling around as the train moves. The black matches the Car Hauler and they are barely seen with the autos loaded.



No more worries about stopping/starting the train too fast and having the Autos slide around. Cars well positioned and look good. No scrapes and chips from rolling around.

Back to Main page.

Last Update May 13 2022