For What Its Worth
Carburetor notes
I finished going through my carb and testing the car. Finally my 66 runs as I always thought it would. Fairly good street manners and good hard acceleration when you hit the gas. I found it was a few "little" things.
When I rebuilt it, the carb didn't look too bad, compared to most. Cleaned it, and started putting it back together. I measured all the linkages as the instructions outlined. What a mess, some measurements wrong from the factory and some way out from previous shade tree owner.
First I found the secondary's were kicking in 40% early on the throttle position. No wonder it wouldn't hold smooth speeds going down the city streets. At about 40 it would want to lung ahead. At the track it would fall on it's face going to WOT, wide open throttle. Opening the secondary's early, before there was enough need to cause the venturi in the secondary's to work right. Only a split second difference I know, but the effect was enormous.
Previous owner had done a number to get it to what they thought was WOT on the secondary's. The main problem was the primary WOT position. About 10 degrees short. No adjustment, just a cast stop on the body. Factory quality control isn't what it used to be. A little filling fixed it. Then adjusted the secondary's back to spec and it all went to WOT just fine.
Accelerator pump and linkage also way out. The carb just would not idle down well, It kept a high idle. The linkage to the accelerator pump was bottoming out. Just barely bottoming out so it gave enough resistance that the throttle would not always close the last little bit.
I think the electric choke rod was the only thing right.
Lastly I replaced the idle screws. Just couldn't get them to adjust smooth, 1/8 of a turn went from close to way over the hill on the adjustment. One was a little scarred from over seating, but not bad. Something just didn't look right so I got new ones. When I compared them, what a difference. The difference on the tip was dramatic.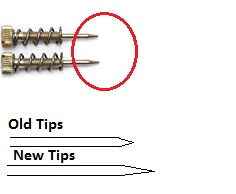 The new ones were about twice the distance from the tip to the full diameter, a shallower or longer taper. Now the idle adjusts the way I remember carbs should adjust. Looks like another "where did it come from?" part.
Next time you ask, "how hard is it to rebuild a carb" be patient with us old guys if we take a while to answer. It isn't hard after you done a few hundred or you follow ALL the instructions in the rebuild kit and have someone with experience looking over your shoulder. There are things they can't tell you in the instructions.
Some notes on carb rebuilding
Rebuilding a carb needs a good memory. Study the instructions and parts as you take it apart.

Read the instructions. Most kits have a blow-up of all the parts and where they went.

Most carbs were rebuilt to clean out gunk etc. Make sure all the passages are clear.

Be careful if using compressed air. You don't want to blow out a pressed in plug causing a leak. I often used WD40 or similar to check/clean out passages. The plastic tube on WD40 works great for this.

Holley's are fairly simple. Quadra Jets usually take some experience to get the right kit to plug the "leaky" areas underneath. Also you usually replace the plastic floats in a Quadrajet with metal ones.
Typical problems rebuilding carbs.
leaving in carb cleaner too long. It will etch the screw threads and they will strip when tightening. (The carb cleaners in the 70s and 80s)

Re-using plastic floats. Quadra Jets are notorious for problems with plastic floats. Plastic floats should not be re-used. Replace with metal floats when possible.

Not adjusting the floats correctly. Even though you can adjust them later on a Holley, it is best to have them adjusted close before adding the fuel.

Dropping the bearing-valve out of the carb and you didn't notice where it came from. Most kits have new ones once you figure out where it went.

Not noticing that the jets for the primary and secondary are different size/numbers and mixing them up.

Playing MR OVERTORQUE on the screws. Over torqueing the air cleaner screw can bend/warp the top of some Carbs.

Not checking the gasket from the carb to the intake to make sure it really does seal correctly. Check it on the carb and then on the intake before installing.

Do not use your mouth as a pressure/vacuum tester. There are nasty deposits on a carb.
Matching Carb to engine.
Now this is a topic that can have us all talking for days. Some things from my experience.
You can have too big of a carb. If the carb size is closer to what the engine needs, it mixes the fuel better, idles, runs and accelerates the best. Like any engineered device a carb is a trade off of many design criteria. When running our short track NASCAR many years ago we ran a 750 CFM carb. Other guys trying to beat us ran 850, 900 and even 1000 CFM carbs. (not as many rules then as today) We out ran them all. The "extra" CFM was a hindrance.
What are you going to do with it? Street or track?
Street Weber-Carter-Edelbrock or quadrajet are good designs. A vacuum secondary Holley is good to. Lots of choices.

Track, well shell out the money. Holley, Dominator etc.
Track and street, best possible mileage and best performance, your dreaming right?

Calculating CFM. Well a quick rule of thumb is take Cubic inches of engine. 350 for example. Now divide by a cubic foot to get Cubic Feet of the engine. 1 cubic foot = 12"x12"x12" or 1728cubic inches. 350/1728 or .2025 cubic feet. (Now you know why they used cubic inches, cubic feet don't sound as tough) Now times by RPM divided by 2. Remember these are 4 cycle engines, it takes 2 revs to get all the cubic inches. So if my engine should not go over 5500 RPM. .2025x5500/2 or 557 CFM So a 600-670 CFM should be good. If 7000 RPM 708 CFM or a 750 may be better.
So you want the best, most efficient carb that gets the best power and has good street and track manners? What is it? It is called EFI, electronic fuel injection. There is a very good reason car companies went to computer controlled fuel injection. Lets face it guys, carbs are simple and cheap and don't need much computer knowledge to adjust. We can tinker with them and still have a lot of cash left over.
__________________
Happy Motoring, VHubbard.

June 2009

Updated Oct 2012
Back to the 66' Nova page